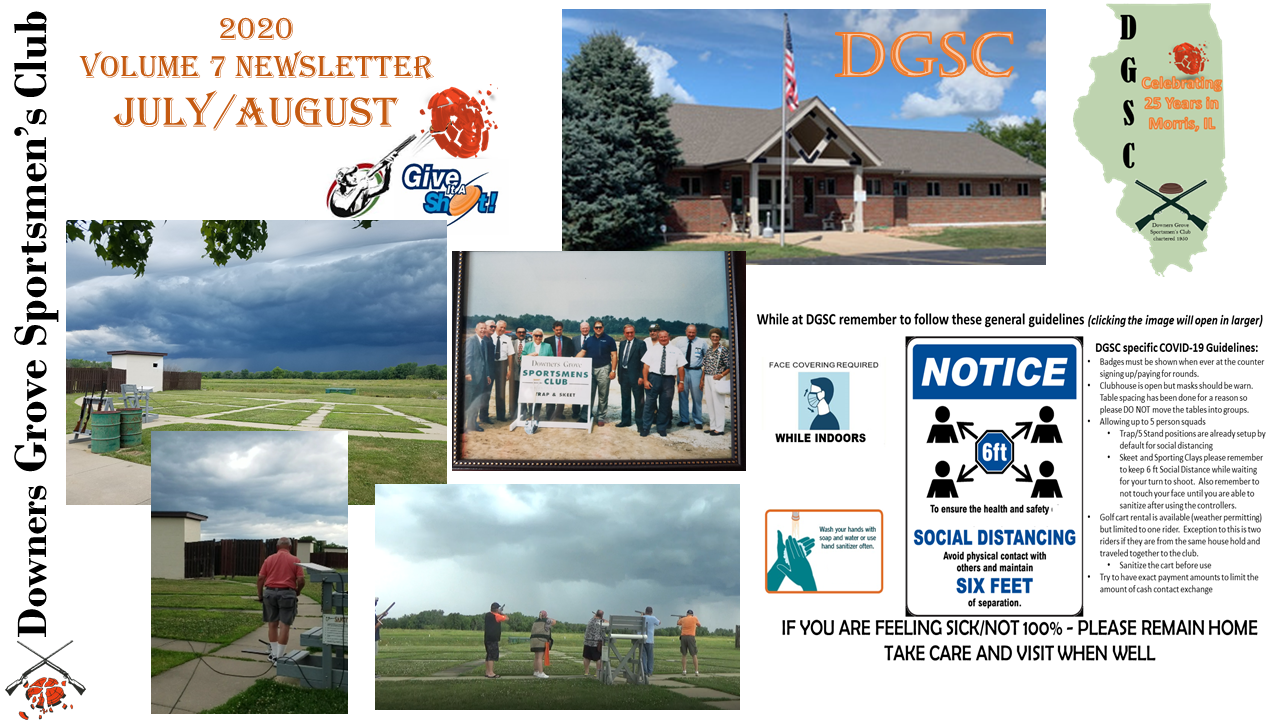 Upcoming Meetings:
Board Meeting -> Saturday August 8th 1pm | General Membership Meeting -> Sunday September 20th 9am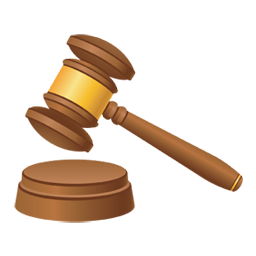 Desk of DGSC President
Hello DGSC Members!

In case you haven't noticed much needed grounds work is getting done at the club under Kevin McCauley's guidance. Hopefully after the work is completed Lake Downers Grove will cease to exist and the farmer may get a bit more yield from the crops.

We are missing the picnic this year but it would have been irresponsible to pack our club house, parking lot, and premises, only to place members and families at risk.

The planned zone shoot for ATA hopefully will still be scheduled subject to some social distancing rules that our ATA team is currently working on. If you haven't been out in a while please don't be a stranger, show up, and pray and spray!

Thanks for reading!
Judson Mann
Return to Top Click Here

Vice President Remarks
Temps are a bit on the warm side but the clays are flying on all fields!! Those that brave the toasty temps are having a Ball!!! The Herman Welch Pavillion has really worked out well providing much needed shade and a place to rest and relax.

Please welcome the following new Shooting Members: Joseph Laskero (Ron Johnson) George Engel (Jed Davis) Chris Brady (Jed Davis) Rick Johnson (Jed Davis) Eric Montelongo (Chuck Farber) Michael Debo (Ed Shannon). Congratulations on your decision to become an important member of Downers Grove Sportsman Club.

Have Fun! Shoot Often!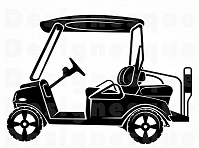 New Benefit for Senior Members - Golf Cart Parking
Great News New Senior Member Benefit!!
Your club has decided to allow the parking of "golf cart" type vehicles for Senior Members. There will be a small annual fee with a signed contract listing the do's and dont's along with your proof of insurance. Space will be limited to ten vehicles with trailers so don't delay in your request. First come, first serve.
How great not to haul your trailer and vehicle to club and back each time you shoot !!!
Contact George Adelmann 815-347-1270 cell/text or email vicepresident@downersgrovesc.com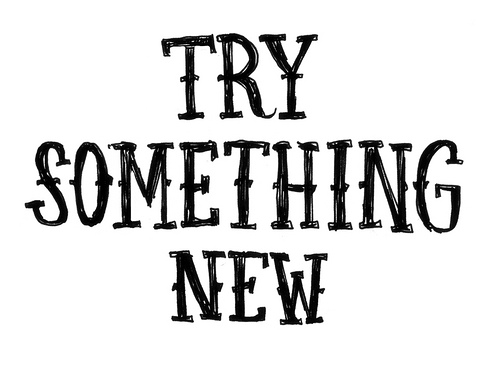 Trying Something New - Part II
Remember longtime Sr member Jim Antonucci from last months newsletter? Trap shooter that tried sporting clays and is having a Ball? Well, I ran into Jim on the 5 stand and asked how often he shoots 5 stand. He replied "This is my first time ever shooting 5 stand!" After his round, Jim walked out with a huge smile on his face and said "WOOHOO!! That was a blast! Let's do it again!"
Thanks Jim for sharing and Trying Something New!!!
George Adelmann
Return to Top Click Here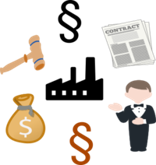 Treasurer Updates
Due to Covid-19, the April 15 tax deadline was pushed out to July 15 for both State and Federal taxes. The Federal and State taxes have been completed and the county real estate tax bills for our properties have just recently been received.
Normally the county real estate taxes would have been received prior to July but again, due to the pandemic, the club didn't receive it's real estate tax bills until July and the first payment will be due in Aug. and the second installment will be due in Sept. All taxes will be paid on time and due to the delayed filing date, no penalties will be incurred.
John Mantsch
Return to Top Click Here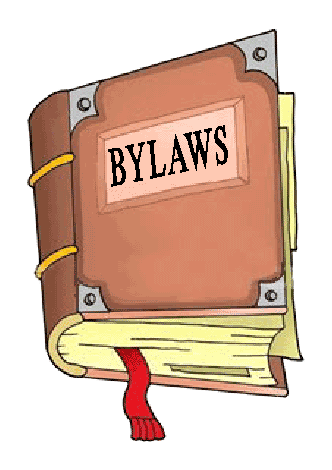 Proposed By Law Change
The following proposed by law change was submitted during the July General Membership Meeting by Ed Shannon. Discussion and voting will take place at the September 20th General Membership Meeting.

Article XIII - FINANCES AND FISCAL YEAR
CURRENT READING: Section 1. The fiscal year of the Club shall begin on the first day of January and end on the thirty-first day or December each year.

PROPOSED CHANGE:Section 1. The fiscal year of the Club shall begin on the first day of April and end on the thirty-first day of March each year.

Ed Shannon submitted a brief explanation with the proposed change: The purpose of this proposal is to allow the board of directors to operate with budgeted funds for the first three months of a new calendar year. Under the current rule the board operates without budgeted funds during that time period.

Operating without a budget creates the potential for overspending and limits control of expenditures. Without a budget in this period the board of directors may face future limitations regarding the financial goals of the club.

This proposal regards organizational budgeting purposes only and does not affect tax reporting.

Acceptance of this proposal means the board of directors can maintain financial integrity, responsibility, transparency, and there commitement to the club.
DGSC Board
Return to Top Click Here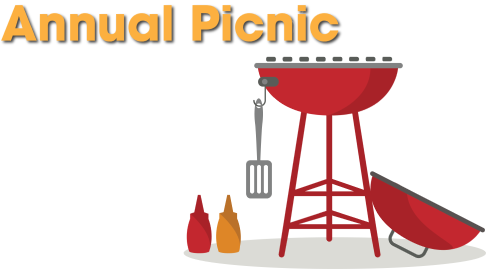 Annual Picnic
As you are probably aware of by now, the annual picnic scheduled for August 30th, has been cancelled.

With the restrictions from the state on the size of gatherings and new flu cases on the increase it was determined that this action needed to be taken. It is a reluctant decision made out of an abundance of caution for the welfare of the membership and the club.
Other Entertainment / Events
Fortunately, we can still gather with friends and shoot at our club. Tuesday and Thursday activity has increased with shooters maintaining vigilant regarding recommended separation and masks in the clubhouse. Friday night shooting has also been well attended. The weekends are wide open with a lot of good shooting opportunities.

I am interested in another cookout sometime in August and want to determine if anyone would be interested in a small 50/50 club shoot running concurrently with the cookout? It's just an idea at this stage so your input would be helpful. The shoot would be 75 targets with 25 each at 16 yard trap, wobble trap, and skeet. More information will be available soon. You can reach me at the club or just post your ideas on the discussion forum.
Ed Shannon
Return to Top Click Here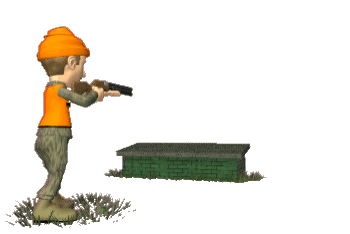 Shotgun Sports
As many events are being cancelled this year, hopefully we will be able to host the Northern Zone & Illini Indian Shoots this year on September 12th & 13th. We will need Volunteers as usual so please contact me or Stan Systo if you can help.

Reminder – only authorized personal may go down in the trap & skeet houses to adjust machines. I am finding that someone is making changes to our Skeet machines, changing height & spring tension adjustments. This has caused our first break down on the high house on field 5. If you notice someone going into the sheet houses other than me or our Help, please let me know so we can avoid further problems.

We are currently testing out our Credit Card Reader at the Trap Counter and so far, it is going well. There is a learning curve so be patient with whoever is working the counter.

5stand & sporting clay is working well. If you have suggestions or comments about the courses, please let me know.
Larry Chambers
Return to Top Click Here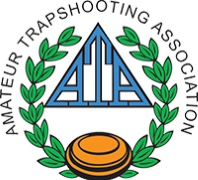 ATA Shoots
As many of you already know, ATA shoots around the state and the country have been cancelled. We still anticipate having our September 2020 Northern Illinois Zone Shoot in September. That being said, as time goes on, we keep getting news of stalling and setbacks with the COVID19 crisis. I hope this will not affect our club or shoots in any way.

In the meantime, please join us at the club for some practice shooting and fellowship.
Stan Systo, DGSC Trap Chairman and ITA Northern Zone Director
Return to Top Click Here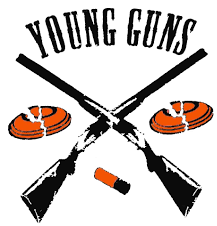 Youth Program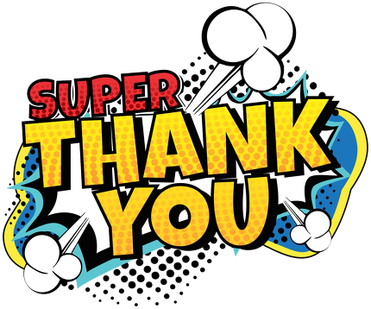 The members of the DGSC Youth Program would like to extend a huge THANK YOU to Bentley Heating & Cooling for there generous donation!
Mark Matteson
Return to Top Click Here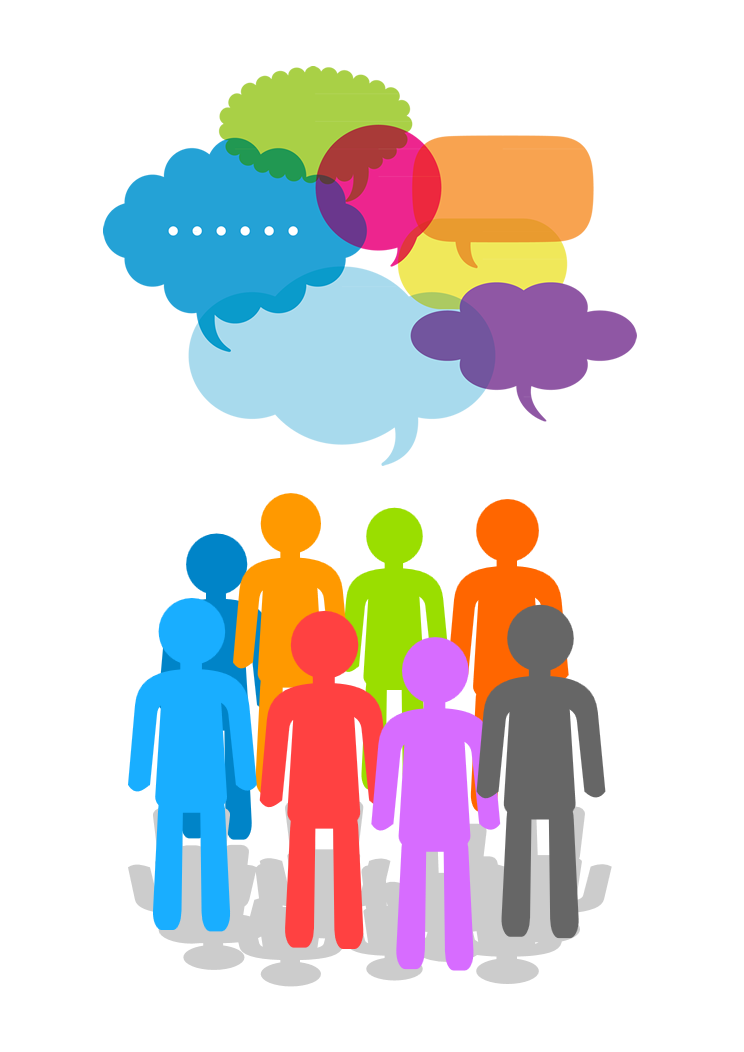 Discussion Forum
To access the discussion forum via the DGSC Website -> DGSC Discussion Forum Click Here (http://www.downersgrovesc.com/Discussion.html)
Anyone can read the threads/posts, but in order to reply or create new topics/threads/posts you must register. To register please click the Register link right side of screen on discussion forum page.
Ed Shannon
Return to Top Click Here
Calendar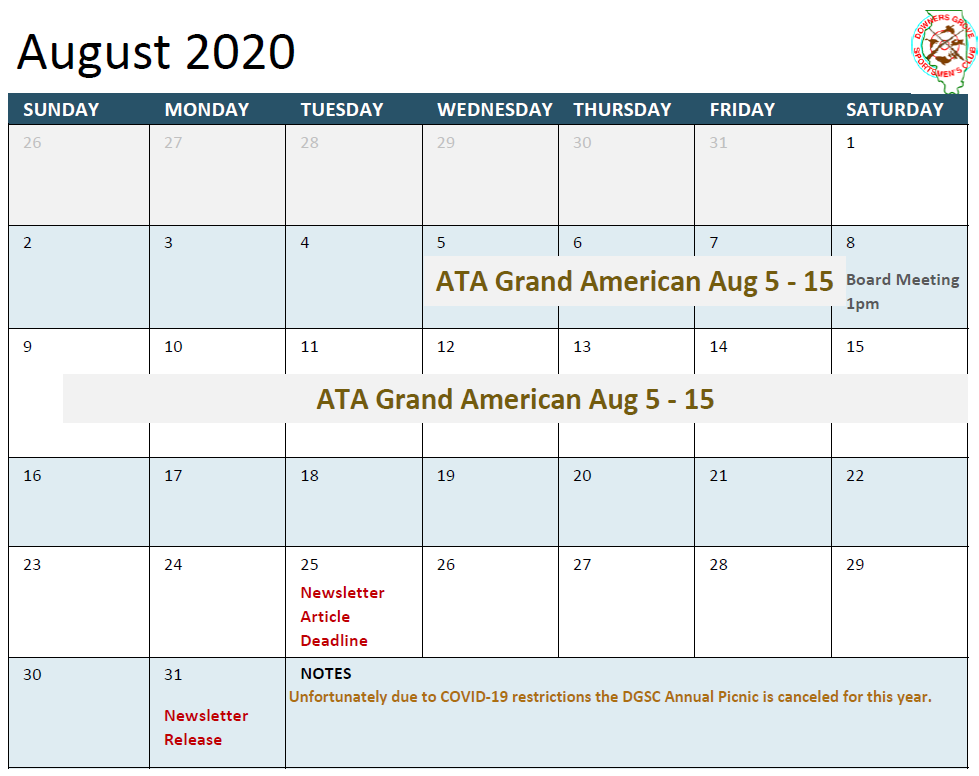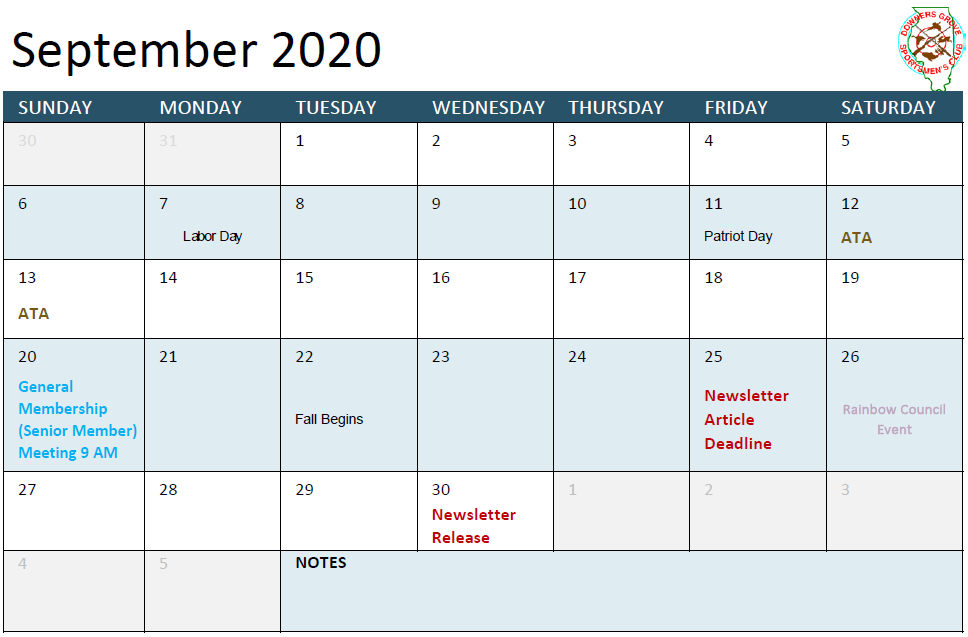 Click here for DGSC Full Calendar
| | |
| --- | --- |
| Board Meetings | 1/11/2020, 1/18/2020, 2/8/2020, 3/7/2020, 4/5/2020, 5/6/2020, 6/10/2020, 6/24/2020, 8/8/2020 |
| Senior Member General Membership Meetings | July 11 1 pm, September 20 9 am |
Return to Top Click Here

2020 is a critical election year for our industry and could very well determine the future of our Second Amendment rights. NSSF is urging all businesses in our industry to inform our members and visitors of a new website that provides additional information regarding polling locations, 2020 candidates and even allows you to register to vote. Please take advantage of this website - https://action.gunvote.org/
Passed on by NSSF
Return to Top Click Here
Officers/Directors/Chairmen:
| | | |
| --- | --- | --- |
| President | Judson Mann | president@downersgrovesc.com |
| Vice President | George Adelmann | vicepresident@downersgrovesc.com |
| Secretary | Debra Fredrick | secretary@downersgrovesc.com |
| Treasurer | John Mantsch | treasurer@downersgrovesc.com |
| Buildings | Don Cox | buildings@downersgrovesc.com |
| Entertainment | Ed Shannon | entertainment@downersgrovesc.com |
| Grounds | Kevin McCauley | grounds@downersgrovesc.com |
| Hunting/Fishing | Charlie Zib | huntingfishing@downersgrovesc.com |
| Legal/Insurance | Ken Cechura | legalinsurance@downersgrovesc.com |
| Maintenance | Jan Gronych | maintenance@downersgrovesc.com |
| NRA | Chuck Feuillan | nra@downersgrovesc.com |
| Shotgun Sports | Larry Chambers | shotgunsports@downersgrovesc.com |
| Youth/Community Relations | Mark Matteson | youthcommunity@downersgrovesc.com |
| ATA | Stan Systo | ata.dgsc@downersgrovesc.com |
| Farm/CRP | Dan Bellus | farm.dgsc@downersgrovesc.com |
| Grants | Ken Cechura | grants.dgsc@downersgrovesc.com |
| Membership Communication | Debra Fredrick | membershipcomms.dgsc@downersgrovesc.com |
| Marketing | Ed Shannon | marketing.dgsc@downersgrovesc.com |
Return to Top Click Here