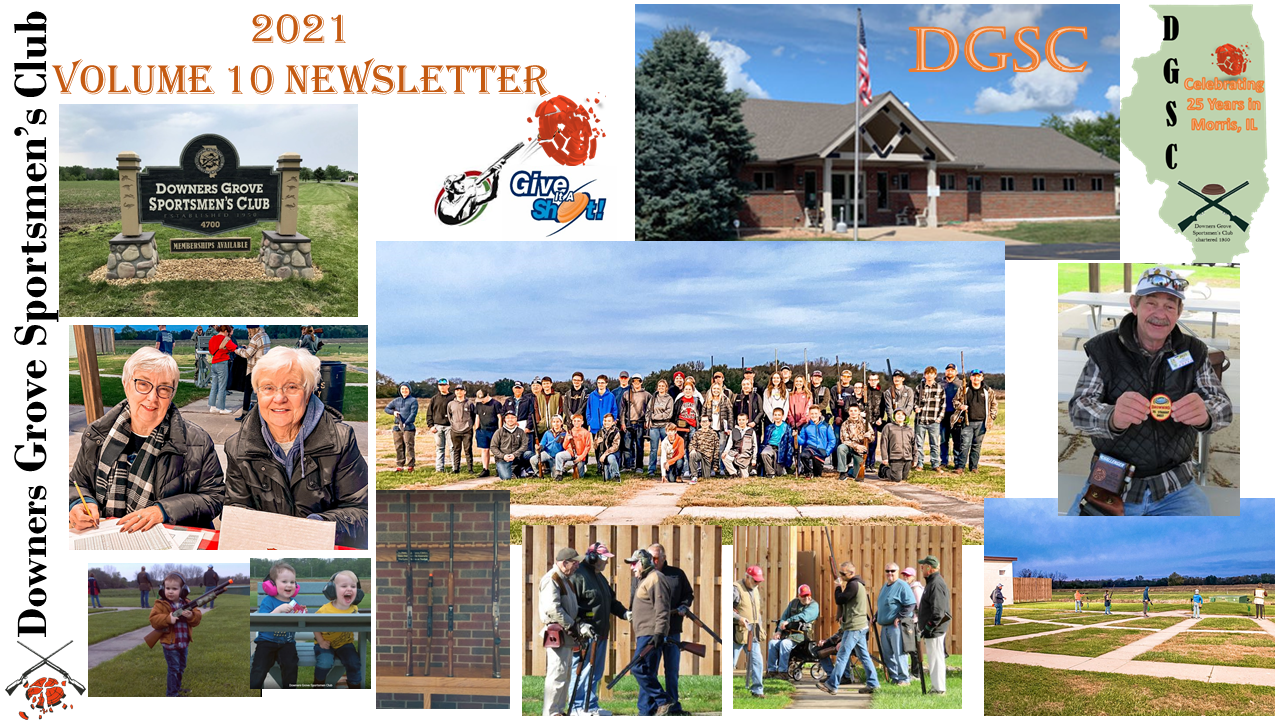 Upcoming Meetings:
Board Meeting -> Saturday December 11, 2021 9 AM @ DGSC | General Membership Meeting -> Sunday November 14, 2021 8:30 AM @ DGSC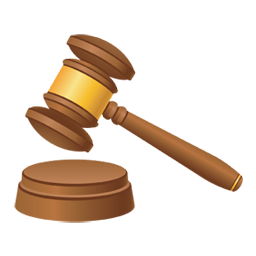 Desk of DGSC President
Don't miss the November General Membership Meeting Sunday, November 14, 8:30 a.m. I hope you will find it worthwhile.
8:30 a.m. David Lombardo. Vice President ISRA will address the Membership Click here for Biography
General Information from the BOD
Nominating Committee will announce 2022 Slate of Candidates. Additional nominations will be accepted from the floor
2022 Membership renewal drawing. 1 free membership will be drawn, all Senior Members attending the meeting will be eligible
If you have suggestions for future meeting agendas, please contact me.
Ken Cechura DGSC President
Return to Top Click Here

Vice President Remarks
Please welcome the following new Shooting Members: Ben Hotchkiss (sponsor George Adelmann) Charly Crescenzo (sponsor George Adelmann) James Honigschmidt (sponsor Paul Burlington) John Marano (sponsor Dennis Marano) Shooting members are the future of our club!!! Please introduced yourself to our newest members!!!

Storage for your cart and trailer is available at your club for the modest fee of $200 per year. Easy in, easy out! Contact vicepresident@downersgrovesc.com.

Fall is a GREAT season to visit your club! The summer heat is gone and no snow…….yet.
Clubs hours are Tu, Th, Sa and Su 9-2p.m. Friday nights, under clubs new super bright lights, 6-10p.m. Note: Friday night shooting stops November 19th. Plan a visit today!

All shooting members are eligible to become Senior members beginning January 1! The advantages are many including a 20% discount on shooting fees as well as the ability to make financial decisions and guide the future of your club. Senior members have contributed to the success of our great club for many ,many year's. Your club needs fresh ideas and energy in order to continue offering great clay target shooting! Please consider becoming a Senior member. Your club needs your participation!!! Contact George Adelmann vicepresident@downersgrovesc.com or call/text 815-347-1270 for questions.
Have fun, Shoot Often! Break 'em All!!! George Adelmann, DGSC Vice President
Return to Top Click Here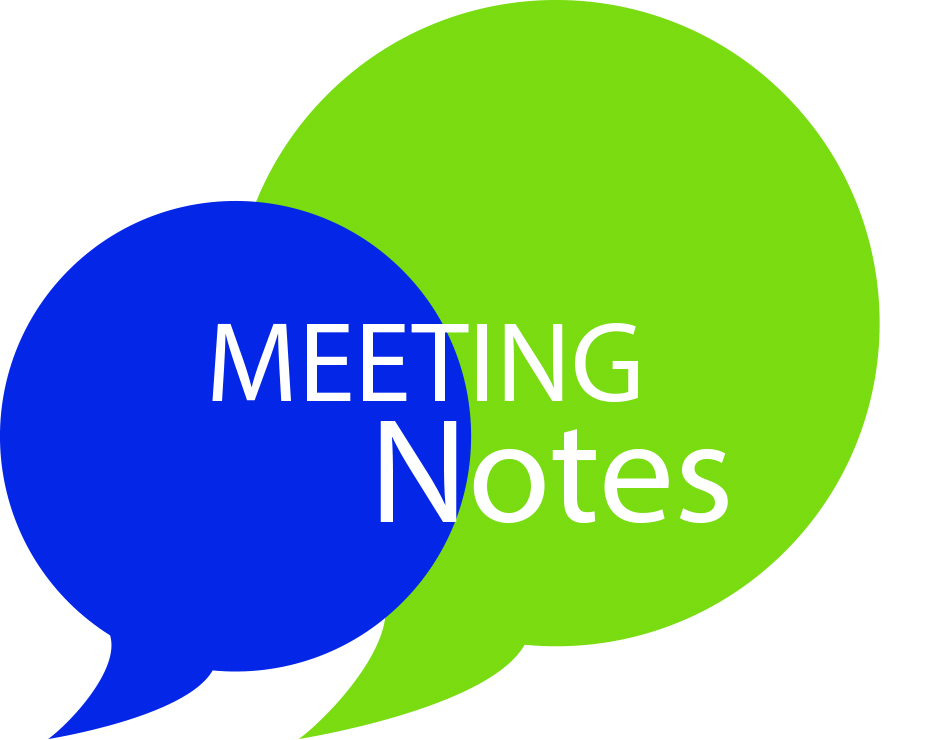 Secretary Minutes
Minutes from the previous meetings, financial reports, and the agenda for the upcoming November Senior Member Meeting are available via the Senior Member Access area of the website.
This special area is for Senior Members only and requires a login, if you have not accessed this page recently contact dgsc_webmaster@downersgrovesc.com for the login information.
John Semprini, DGSC Secretary
Return to Top Click Here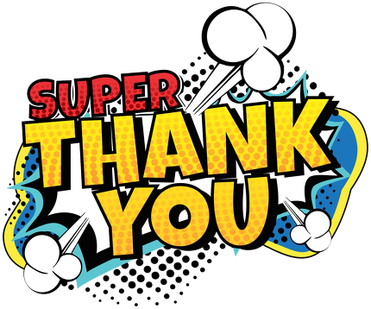 BIG applause for Dave Michelich!!!!
His effort, variety of delicious breakfast foods and attention to detail was outstanding!! Decorations ( candles no less!!!) , table cloths, cereal bar, fruit, biscuits and gravy, pancakes together with scrambled eggs with sausage and hash browns …. the items were many and varied!!! You would think that this buffet was prepared by a professional staff at a fancy hotel!!! It was that well done!!! Very enjoyable morning was had by those who attended!!!
Return to Top Click Here

Hunting Report

Senior Members Only
The 2021 archery season started on October 1st. DGSC had its first bird release on Saturday October 16th. 30 birds were released and 17 were harvested.

The first firearm season is November 19 thru the 21st, and the second season for firearm is December 2 thru the 5th. Remember there will be no upland game hunting during the firearm seasons.

The next bird release will be on Saturday November 27th with 40 birds being released.
Happy Hunting, Charlie Zib, DGSC Hunting/Fishing Director
Return to Top Click Here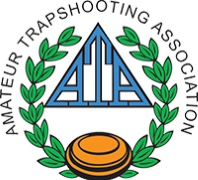 ATA News
2021 ATA shoots have come to a close with the final shoot held in October - The Herman Welch Memorial Handicap. It was a decent fall day for a shoot and all went well. Thanks to all the shooters and volunteers that support at our ATA shoots. We are happy to see a growing number of shooters including many younger shooters in the past two years.

Here are the ATA shoot dates for 2022 so you can mark your calendars now:
April 24th (Spring Opener)
May 15th (May Shoot)
June 26th (An Illini Indian Shoot)
September 10-11th (Northern Illinois Zone Shoot)
October 9th (Herman Welch Memorial Handicap)


In addition, a reminder to all club shooters - the 2022 Jackrabbit shoots begin in January and are NOT registered ATA shoots. These are club shoots, where 4 clubs compete for bragging rights while braving brisk winter shooting. They consist of 50 bird events. Dates and Locations:
January 2nd St. Charles
January 9th McHenry
January 16th Downers Grove
January 23rd Maywood
January 30th St Charles
February 6th McHenry
February 13th Downers Grove
February 20th Maywood
February 27th - Final at St. Charles
Stan Systo, DGSC ATA Chairman and ISTA Northern Zone Director
Return to Top Click Here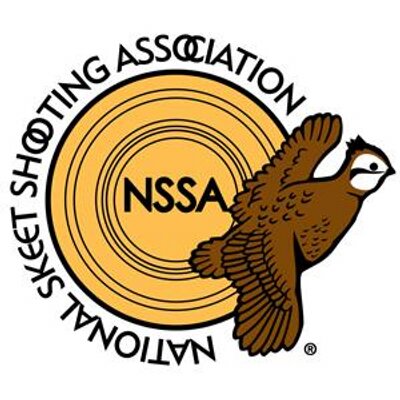 NSSA News
DGSC will host two NSSA Registered Shoots in 2022, along with monthly target events. More details on the monthly events to come.
NSSA Grand Prairie Tournament June 10, 11 and 12
NSSA Fall Tournament September 16, 17 and 18
Tim Donnell & Paul Burlington, DGSC NSSA Chairman
Return to Top Click Here


Friends and family enter and leave our lives, but the impressions they make on our hearts stay with us forever. DGSC is sadden to share news of the passing of ...
--Susan Connor, wife of Senior Member Larry Connor ... Our thoughts and condolences go out to the Connor Family.
Return to Top Click Here
Calendar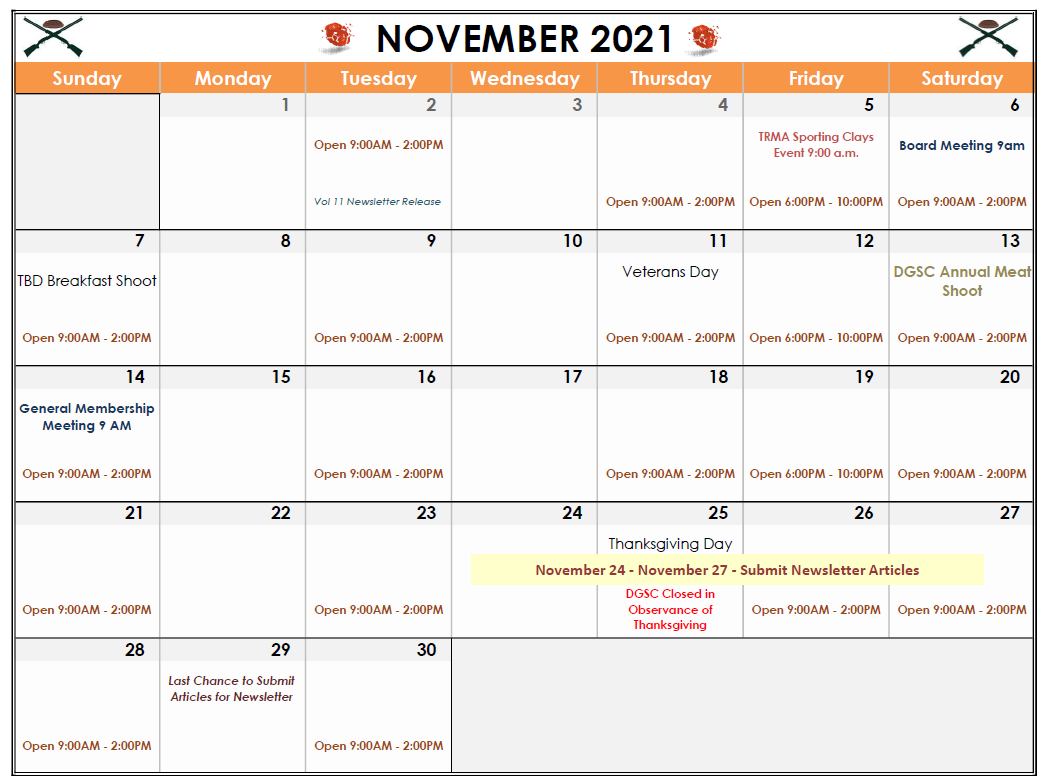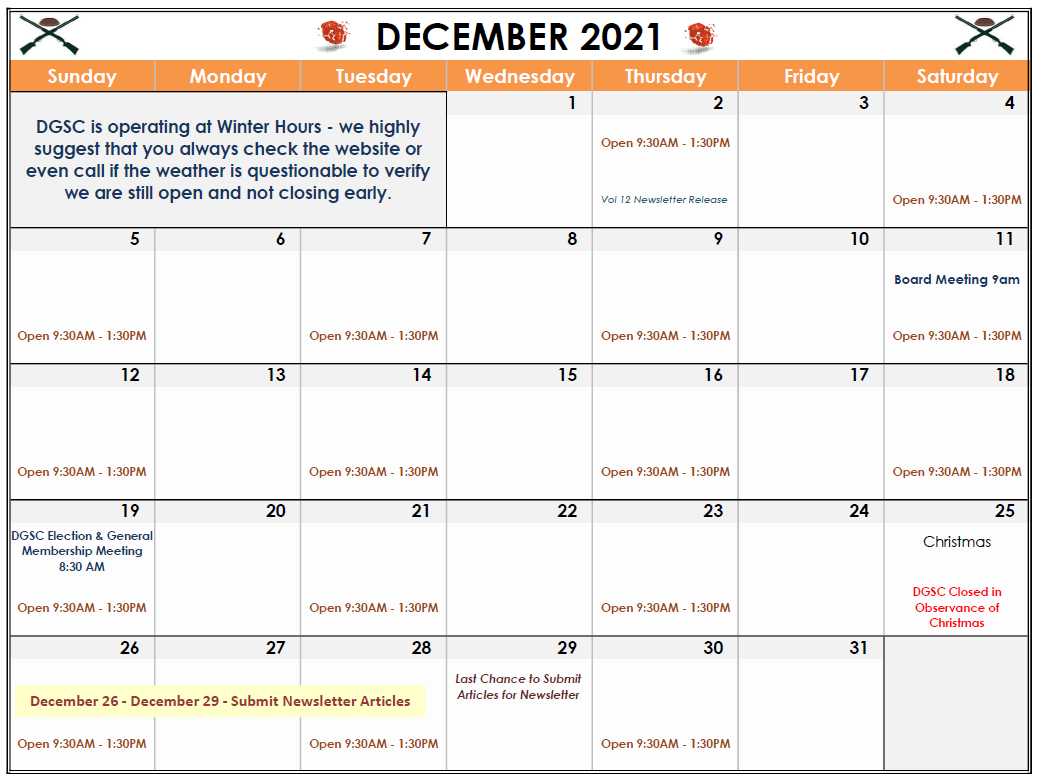 Click here for DGSC Full Calendar
Save the Dates List:
November
Saturday Nov. 13 9:00 a.m. DGSC Meat Shoot
Sunday Nov. 14 8:30 a.m General Membership Meeting
December
Saturday Dec. 11 9:00 a.m. Board Meeting
Sunday Dec. 19 8:30 a.m. DGSC Election / General Membership Meeting
Return to Top Click Here
Officers/Directors/Chairmen:
| | | |
| --- | --- | --- |
| President | Ken Cechura | president@downersgrovesc.com |
| Vice President | George Adelmann | vicepresident@downersgrovesc.com |
| Secretary | John Semprini | secretary@downersgrovesc.com |
| Treasurer | John Mantsch | treasurer@downersgrovesc.com |
| Buildings | Don Cox | buildings@downersgrovesc.com |
| Entertainment | Ed Shannon | entertainment@downersgrovesc.com |
| Grounds | Kevin McCauley | grounds@downersgrovesc.com |
| Hunting/Fishing | Charlie Zib | huntingfishing@downersgrovesc.com |
| Legal/Insurance | Richard Niebuda | legalinsurance@downersgrovesc.com |
| Maintenance | Jan Gronych | maintenance@downersgrovesc.com |
| NRA | Chuck Feuillan | nra@downersgrovesc.com |
| Shotgun Sports | Larry Chambers | shotgunsports@downersgrovesc.com |
| Youth/Community Relations | Mark Matteson | youthcommunity@downersgrovesc.com |
| ATA | Stan Systo | ata.dgsc@downersgrovesc.com |
| NSSA | Tim Donnell | nssa.dgsc@downersgrovesc.com |
| Farm/CRP | Dan Bellus | farm.dgsc@downersgrovesc.com |
| Grants | Ken Cechura | grants.dgsc@downersgrovesc.com |
| Membership Communication | Webmaster | IT | Debra Fredrick | membershipcomms.dgsc@downersgrovesc.com |
| Marketing | Ed Shannon | marketing.dgsc@downersgrovesc.com |
| Financial Committee | John Semprini and Judson Mann | financial.dgsc@downersgrovesc.com |
Return to Top Click Here