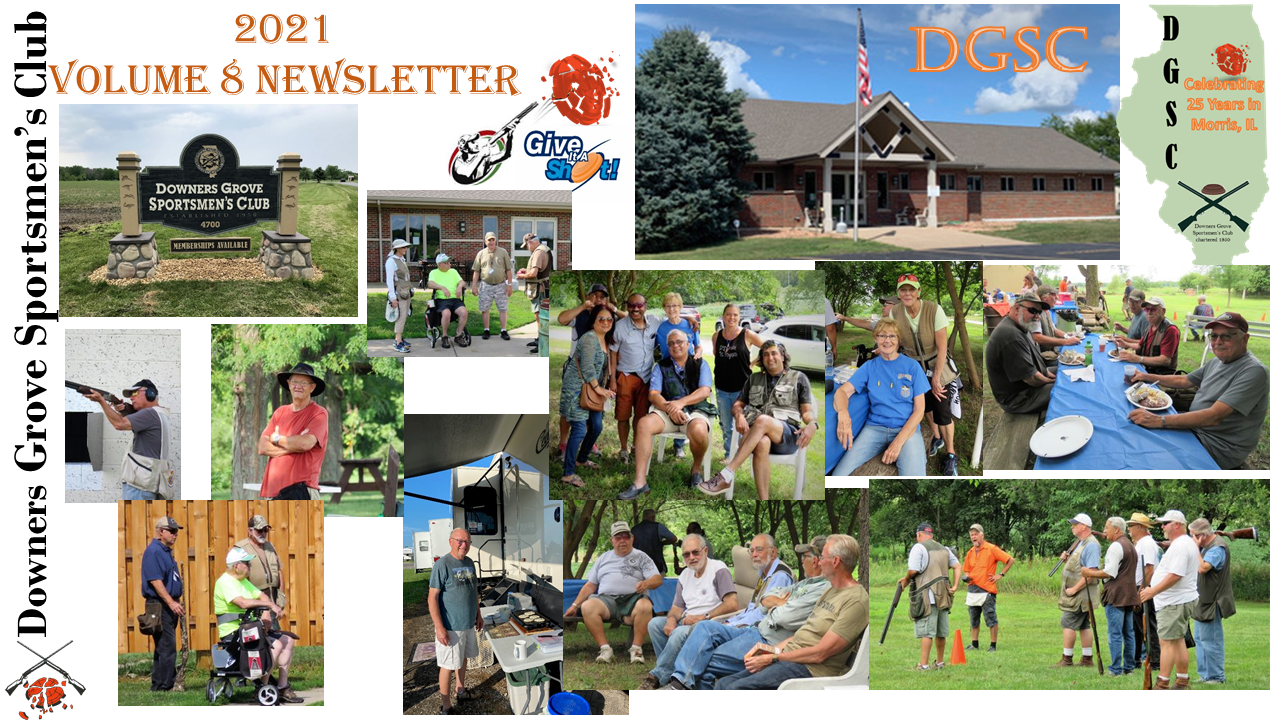 Upcoming Meetings:
Board Meeting -> Sunday September 19, 2021 8:30 AM @ DGSC | General Membership Meeting -> Sunday September 19, 2021 10:00 AM @ DGSC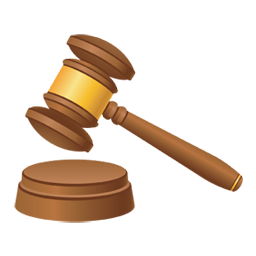 Desk of DGSC President
One step forward, one step back?

Just as the country felt we were progressing, things change. In the past few days the CDC and Grundy County Health Department have once again recommended that "masks be worn" inside buildings and where "social distancing" is not practical. This recommendation applies to both vaccinated and unvaccinated individuals. As in the past, the science and politics of the issue are debatable. I pose the question, "why take a chance"? Why risk transmitting or becoming infected with a virus that could be fatal to your friends or family? Please wear a mask when in the building until we can return to normal. This is not a "directive" from the Board, but a request in the interest of public health. This morning 18 additional people were reportedly tested positive.
Ken Cechura DGSC President
Return to Top Click Here

Vice President Remarks
We always check the weather before a visit to club right? Weather does play an important role when deciding to visit to be sure. When making your decision, please keep in mind that your air conditioned/heated clubhouse is only steps away from trap and skeet fields. The pavilion is shaded with multiple tables for your gear. 5 stand is shot from a covered building. If a round of sporting clays is not completed, simply keep your target card and use on your next visit. Your club is open for your convenience from 9-2pm on Tu, Th, Sa, Su and Fr from 6-10pm. C'mon out and have fun!!!

For those with temporary badges . . . The long awaited permanent badges will be mailed very soon. There are badge clips available at no charge at the from desk. Thank you for your patience!

All new/existing members should be receiving informational emails of club events and activities. If not, send me your email address and ask that our great IT person, Debby Fredrick, add your information. VicePresident@downersgrovesc.com

The Capital Improvement committee is compiling a list to present to your Board of Director's for consideration. Recent suggestions have been pistol range and landscaping. This is your opportunity for input.
Have fun, Shoot Often! Break 'em All!!! George Adelmann, DGSC Vice President
Return to Top Click Here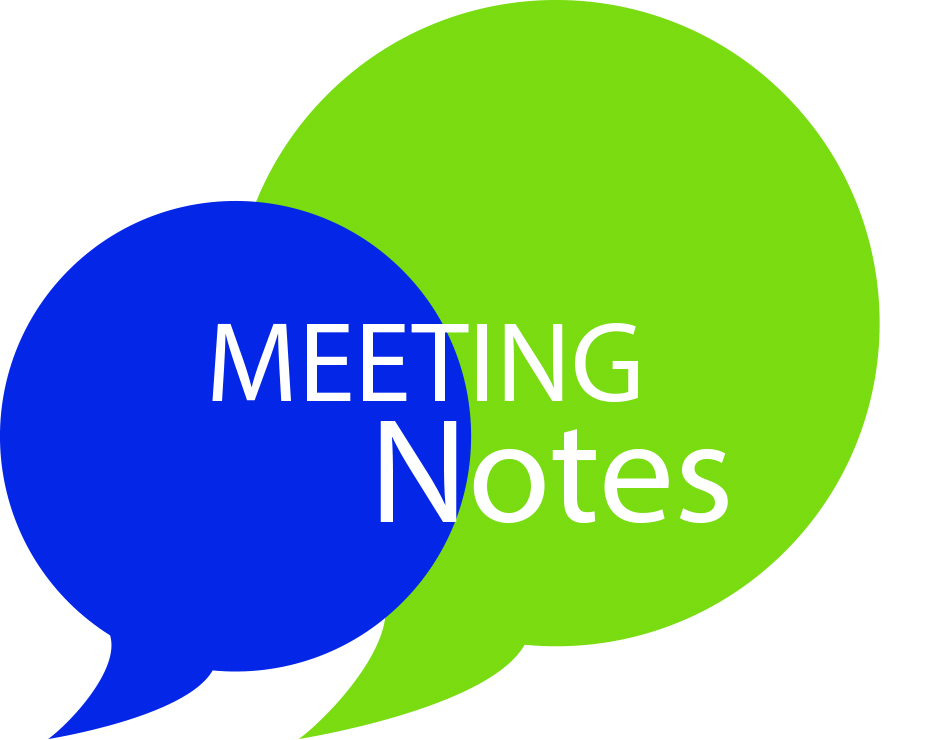 Secretary Minutes
For senior members access to meeting minutes are going to be made available via the Senior Member Access Page of the DGSC Website. This page was used during COVID - if you do not remember how to access this page on the DGSC Website, please contact our Communications/IT/Webmaster Chairman Debby Fredrick for directions and login information - dgsc_webmaster@downersgrovesc.com
Please be sure to download and read previous meeting minutes, or print yourself a copy if you prefer, prior to General Membership Meetings.
John Semprini, DGSC Secretary
Return to Top Click Here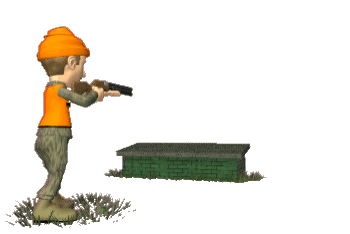 Shotgun Sports
A few things will be going on in September ...

First is the ATA event that will take place on Saturday the 11th & Sunday the 12th. As usual we will need volunteers to load Trap machines these (2) days. Please contact Stan Systo or me if you can help. This event will utilize all (8) Trap & Skeet Fields - both days. Sporting Clays & 5 Stand will be open.

Jed Davis's Parkview Youth league will start their Fall program on Friday September 17th and run every Friday night with the last shoot date of October 29 – their fun night. They will start shooting around 6:00 pm. Practice shooting should be available by 7:00 pm.

Rainbow Council will be having their event on Saturday the 25th. Thye will be shooting Sporting Clays. Early shooting on a limited basis may be available. Once they start shooting, they will occupy the whole Sporting Clay course. Trap, Skeet and 5 Stand will be available for open shooting during this event.
Larry Chambers, DGSC Shotgun Sports Director
Return to Top Click Here
DGSC Entertainment / Events / Marketing
The club picnic will return this month, Sunday, August 29th. Come on out and enjoy your club.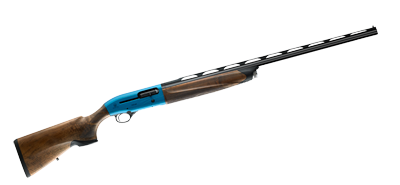 Raffle ticket sales have been brisk. Make sure you get yours before they are sold out. Besides the Beretta A400 and the 24 gun fire safe being given away, this year's activities will also include bucket raffles. We have a good lineup of ammunition, gun cases, knives, fishing gear and more.

Don't forget to save the dates for the the Parking Lot Swap Meet, Sept. 18th, and Vintage Shoot, Sept 26th.
Ed Shannon, DGSC Entertainment Director and Marketing Chairman
Return to Top Click Here

Hunting Report

Senior Members Only
Game breeding & HPA class A Hunting permit has been purchased and posted in the club and the 2021 birds have been purchased.
2021 Bird Release program - Cost of birds this year will be $16.00 each and there is no bird limit. A 2 bird minimum payment is required on the day of release for senior members only. The bird release schedule will be posted in September.
Doves - Dove season starts September 1st. All states rules and regulations apply. Please tag in and mark the board if your hunting.

Reminder crops are planted. Be careful when harvesting birds. Further posting will be on the DGSC web site and e-mails will be sent out.
Charlie Zib, DGSC Hunting/Fishing Director
Return to Top Click Here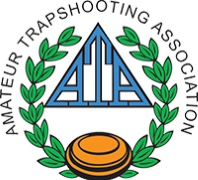 ATA Shoots
Our fourth ATA Trapshoot of the year is history. We had a lower than normal turnout due to a number of factors, but it was an enjoyable and successful event. Junior club member Logan Hawkins broke the lone 99 in the singles to win the Junior Trophy. Downers Grove club members John Semprini, Jerry Frieders, and Connie Systo also won their respective classes. We thank those who came out to shoot on a "less humid" summer day along with the volunteers, who without their help these shoots would not be successful. The Entertainment Committee provided our group with lunch, which is a welcome service to the shooters - Thank you!

We take a break the month of August, but our next ATA shoot is the Northern Illinois Zone Shoot on September 11th and 12th. This is sure to have a large turnout and hopefully we will have great weather for the two days. Come on out to shoot, spectate or volunteer. October 10th will be our last shoot of the year, mark your calendars!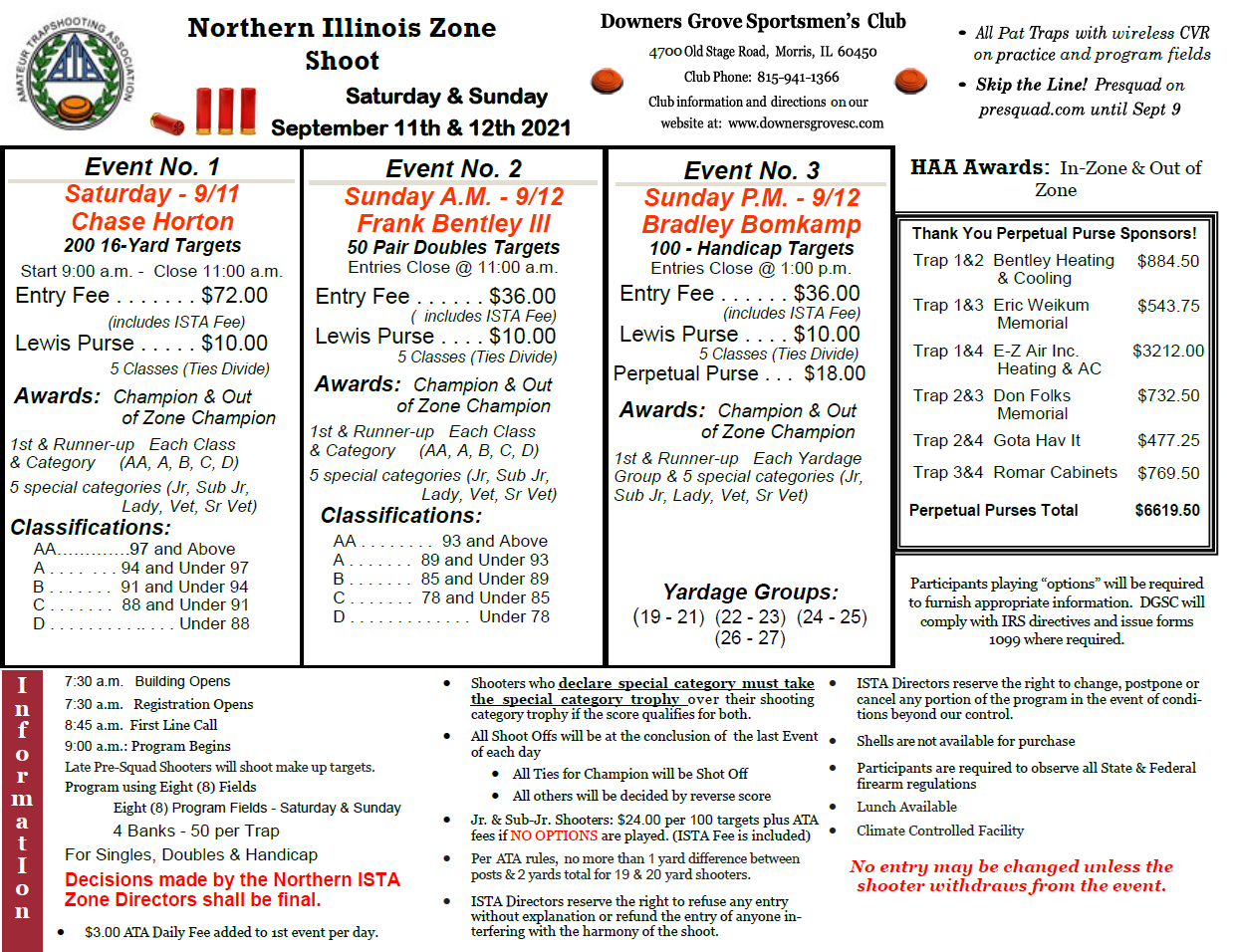 Stan Systo, DGSC ATA Chairman and ISTA Northern Zone Director
Return to Top Click Here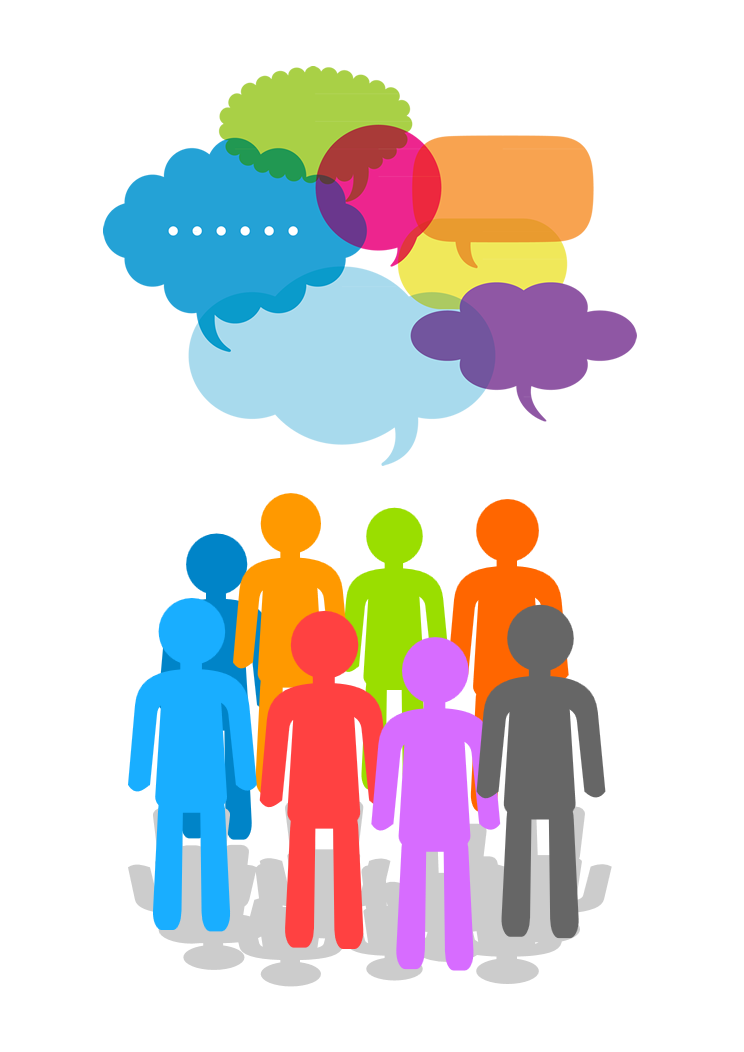 Discussion Forum
The DGSC Discussion Forum was something new the Board thought to try out. In our latest Board Meeting Discussion there was talk that the use of the DGSC Discussion Forum is almost non-existent and that we will be removing it and replacing it with a News Page where each Officer, Director, and Chairman will have a area where they can blog about any club events, or other shotgun sports events.
If anyone is shocked by this decision and felt they were using the discussion forum regularly and surprised to see it go please reach out to the board and we can discuss further, but based on what we saw in regards to new threads, posts, replies, etc. this seems like the best course of action.
Return to Top Click Here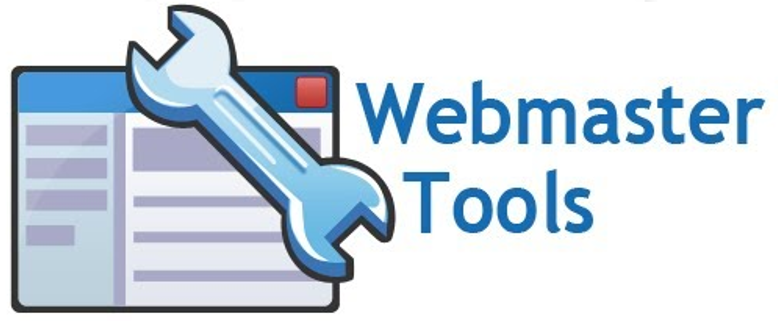 Member Broadcast/Website/Social Media
Broadcasts: If you have an email account and are not receiving DGSC Broadcast or know someone who is not please first add dgsc_newsletter@downersgrovesc.com to your Address Book/Contacts. Then email dgsc_newsletter@downersgrovesc.com and let us know you are not getting emails.
For those that do not have emails or know someone that doesn't have email and/or is not getting DGSC Announcements, setting up a GMAIL or YAHOO email is extremely easy and we can help but you need to ask and let us know you need help doing so.

Social Media: We are always looking for photos for the newsletter and website, please email dgsc_newsletter@downersgrovesc.com and or share on Facebook any pictures you have or take and we will add them to newsletters and the website. We would love to also see our Google Rating Rise, so please make sure to go to Google Maps and Like/Review/Comment on DGSC. A link has been added on our Home page to do this. Remember to also Like/Follow and Share us on Facebook and Instagram.

There is a lot going on in our sport from events at DGSC, other clubs, hunting, and youth leagues - we like to advertise on the website, facebook etc. about our sports so please if you have something that you think would be great to display on the website etc. please email dgsc_webmaster@downersgrovesc.com.
Debra Fredrick, DGSC Membership Communications | Webmaster | IT Chairman
Return to Top Click Here
Calendar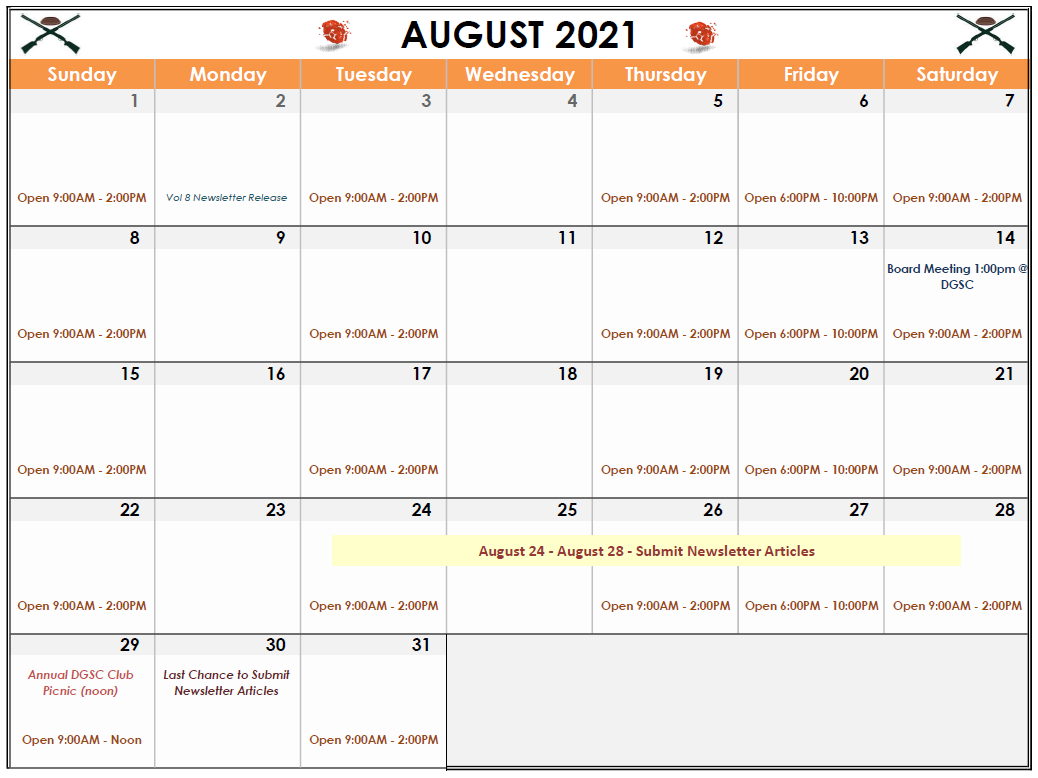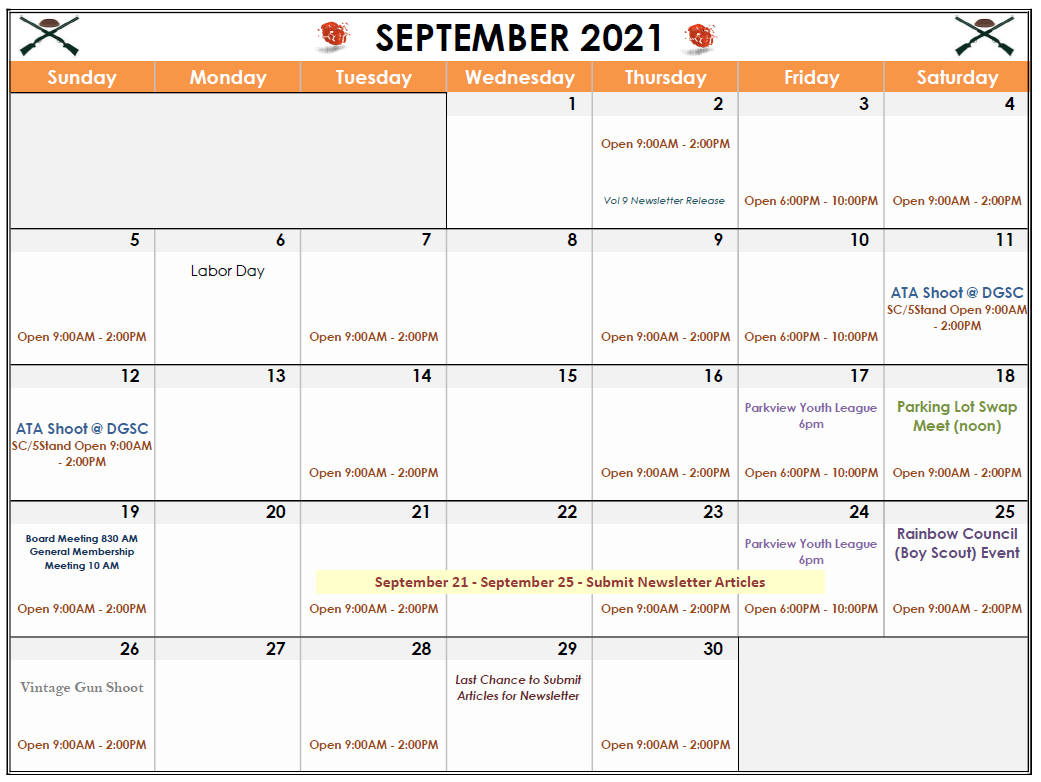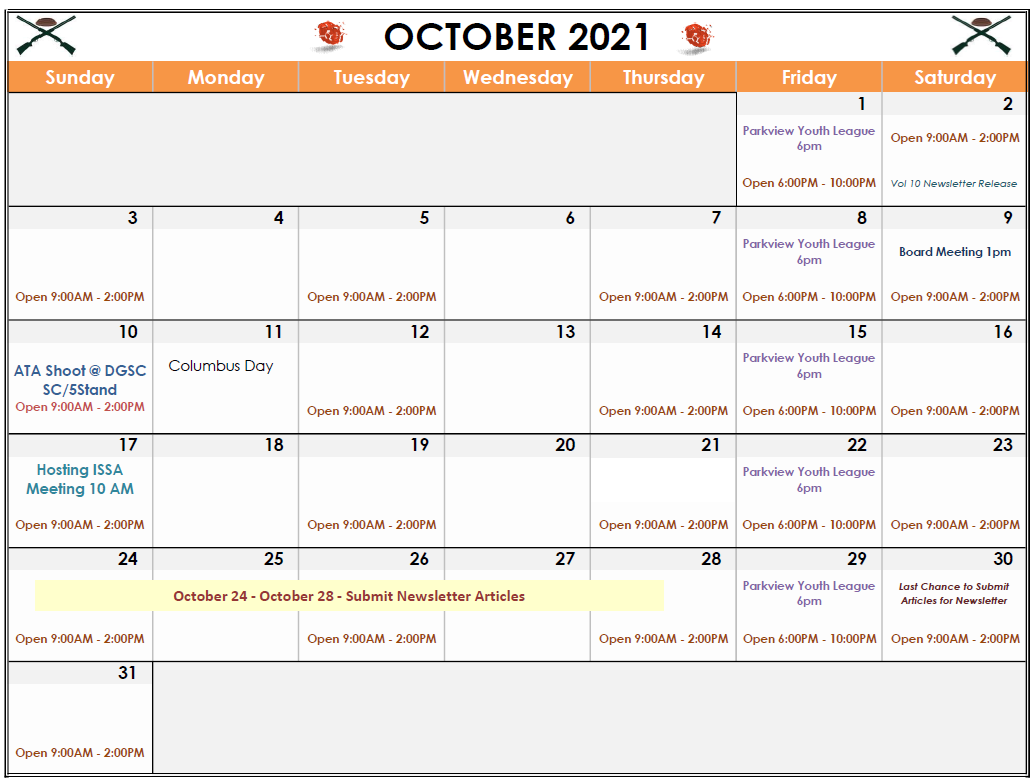 Click here for DGSC Full Calendar
Save the Dates List:
August
Sunday Aug. 29 Noon Club Picnic
September
Saturday Sept 11 & 12 all day ATA Illinois Northern Zone
Saturday Sept 18 Noon Parking Lot Swap Meet
Sunday Sept 19 8:30 a.m. Board Meeting
Sunday Sept 19 10:000 a.m. General Membership Meeting
Saturday Sept 25 9:00 a.m? BSA Rainbow Council
Sunday Sept 26 9:00 a.m. DGSC Vintage Gun Shoot
October
Saturday Oct. 9 1:00 p.m. Board Meeting
Sunday Oct. 10 All day ATA Herman Welch Shoot
Sunday Oct. 17 10a.m. Hosting ISSA Meeting
November
Sunday Nov. 6 1:00 p.m. Board Meeting
Saturday Nov. 13 9:00 a.m. DGSC Meat Shoot (TBD)
Sunday Nov. 14 9:00 a.m General Membership Meeting
December
Saturday Dec. 11 1:00 p.m. Board Meeting
Sunday Dec. 19 9:00 a.m. DGSC Election / General Membership Meeting
Return to Top Click Here
Officers/Directors/Chairmen:
| | | |
| --- | --- | --- |
| President | Ken Cechura | president@downersgrovesc.com |
| Vice President | George Adelmann | vicepresident@downersgrovesc.com |
| Secretary | John Semprini | secretary@downersgrovesc.com |
| Treasurer | John Mantsch | treasurer@downersgrovesc.com |
| Buildings | Don Cox | buildings@downersgrovesc.com |
| Entertainment | Ed Shannon | entertainment@downersgrovesc.com |
| Grounds | Kevin McCauley | grounds@downersgrovesc.com |
| Hunting/Fishing | Charlie Zib | huntingfishing@downersgrovesc.com |
| Legal/Insurance | Richard Niebuda | legalinsurance@downersgrovesc.com |
| Maintenance | Jan Gronych | maintenance@downersgrovesc.com |
| NRA | Chuck Feuillan | nra@downersgrovesc.com |
| Shotgun Sports | Larry Chambers | shotgunsports@downersgrovesc.com |
| Youth/Community Relations | Mark Matteson | youthcommunity@downersgrovesc.com |
| ATA | Stan Systo | ata.dgsc@downersgrovesc.com |
| NSSA | Tim Donnell | nssa.dgsc@downersgrovesc.com |
| Farm/CRP | Dan Bellus | farm.dgsc@downersgrovesc.com |
| Grants | Ken Cechura | grants.dgsc@downersgrovesc.com |
| Membership Communication | Webmaster | IT | Debra Fredrick | membershipcomms.dgsc@downersgrovesc.com |
| Marketing | Ed Shannon | marketing.dgsc@downersgrovesc.com |
| Financial Committee | John Semprini and Judson Mann | financial.dgsc@downersgrovesc.com |
Return to Top Click Here