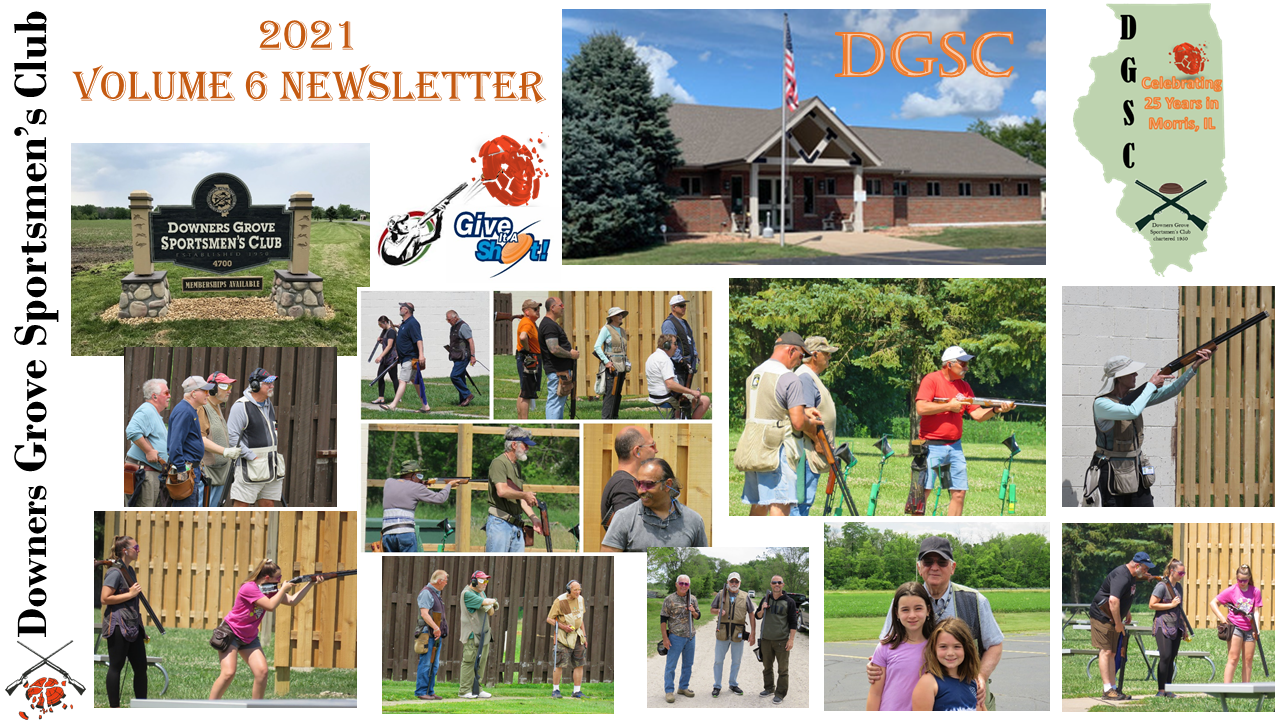 Upcoming Meetings:
Board Meeting -> Saturday July 17, 2021 1:00 PM @ DGSC | General Membership Meeting -> Sunday September 19, 2021 10:00 AM @ DGSC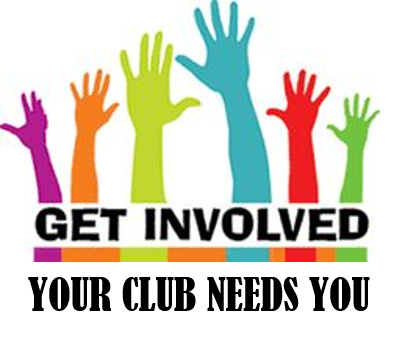 DGSC NEEDS YOU!
Dear Members,
As we approach the midpoint of 2021 our club finds itself facing several challenges. These challenges that were once far away, are now closer than ever before.

You need to know that our club is being affected by a number of growing problems all set to converge in the near future. The convergence means we must reassess our options, potentials, and practices. It means change is coming.

As the average age of Senior Members grows, there are fewer available volunteers to accomplish necessary work in operating the club. We are now at a point where only 25 members comprise the corps of our volunteers. Without volunteers the club will need to pay outside help to do even occasional labor, once done by members. Along with the lack of volunteers and the need to utilize vendors we also face the challenge of a changing economy. The cost of everything we need and use has gone up while revenue has remained the same. Our building is now 25 years old, the replacement and repair of essential equipment will soon be necessary. The savings that can be realized by member participation could be substantial. Adding to growing expenses is the problem of reduced revenue from shooting. Members are not participating at the same level they were just a few years ago.

I realize many of you have volunteered in the past and have done "your fair share". Someone once said, "many hands make light the task." There are many jobs that do not require physical labor but are clerical. Work the trap counter, score a trap or skeet event, help in the kitchen, help with inventory, we will find a project you are suited to. It appears that a sense of complacency has set in with many members which can only add to the lack of participation in club functions.

What does this mean to the club? Without the intervention of our membership we can expect to see more of the budget being allocated to operating expenses. Without volunteers we will have to pay someone to get the work done. The decline in shooting means lower revenues. As costs go up the little benefits of membership may disappear. Hours of operation could be limited, meals at meeting discontinued, the picnic reduced. Inevitability, there will be discussions about raising dues and shooting fees. We currently enjoy the finest clay target facility in the state, with four first rate venues, trap, skeet, 5-stand, and sporting clays. Our dues are extremely reasonable compared to other clubs.

Adding to all this is the fact we operate in an increasingly hostile political environment. Our enjoyment is frequently seen by the nearby urban population as a socially questionable activity and by some politicians who can only see us as politically problematic. Compounding this is our recovery from a forced shutdown and curtailment of our operations for over a year. This and political upheaval has led to shortages in guns, ammunition, and reloading components which limits participation.

To address the problems the board has been operating under a budget system holding each member of the board accountable for expenditures. A new system of accounting has been instituted under the guidance of an outside accounting firm. All our venues continue to improve, new events have been added to the club calendar, and grants have been utilized for programs and capital improvements. Especially meaningful in controlling costs is the continued work of our corps of volunteers without whom things would be far more expensive.

Your club needs you. It needs you to come out and enjoy the friendship of others who share your passion for clay target shooting. It needs your skills and ideas. It needs your participation.
Ken Cechura DGSC President
Return to Top Click Here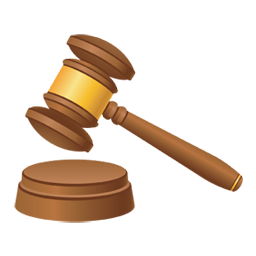 Desk of DGSC President
On Wednesday June 9, 2021 VP George Adeleman recruited 16 members for a "work party". This month's project was to update an inventory of the clubs fixed assets. Armed with clip boardsm pencils, and flashlights, our volunteers (Ken Cechura, George Adelmann, Ed Shannon, Don Cox, Tim Donnell, Dan Phillips, Jan Gronych, Steve DeLurgio, Tom Maslowski, Bob Glaz, Brian Svoboda, Keith Uffelmann, Ken MacAfee, Rick Niebuda, Mark Kroll, and please if we missed anyone let us know . . . it wasn't on purpose and we appreciated all that took the time out of their day to help) worked in 2 man teams, documenting equipment, description, and serial numbers throughout the club. Now an ongoing project we will continue to add to the list as we find items we may have omitted. An ongoing inventory may prove invaluable should the club need to claim any type of theft or casualty loss in the future.
At the Board Meeting on June 12 three committees were formed.
Business Plan. Chaired by Tim Donel, Members include Ed Shannon, Chuck Feuillan
Capital Improvement Plan, Chair George Adelman, with BOD input
Bylaw Review. Rich Niebuda and Ed Shannon
These committees will become the foundation for future grant applications and planning for the future of DGSC I will participate with any, and all, as needed. If you would like to assist contact me or the committee chairs for meeting info.

We are currently seeking candidates for the DGSC Secretary position. Jed Davis is unable to fulfil his responsibilities due to personal commitments. Interested individuals should contact President, Ken Cechura or Vice President, George Adelman
Ken Cechura DGSC President
Return to Top Click Here

Vice President Remarks
Exciting Month for Membership
--Paul Burlington has submitted his Sr. Membership application sponsored by Ed Shannon. Paul has been very instrumental in re-establishing registered skeet at our great club.
--Luke Singletary sponsored by his father, Bart Singletary, is becoming a Sr member. Luke being 21 and Jr. member of DGSC may apply directly for Sr membership. How fun to shoot with your son Bart!!!
--Cody Hammons is now a shooting member sponsored by Roger Singletary. Cody is friend and pistol shooter with Roger and Debby Fredrick and excited to shoot SC.
--Ron Sarnecki is a returning shooting member. He is anxious to see old friends and shoot with his Sr member son Mark Sarnecki.
Please warmly welcome Paul, and Luke into Senior Members and Cody and Ron as our great clubs newest members!!!

5 Stand Target Presentation Has Changed!
Haven't shot 5 stand in a while??? Well, you are in for a treat!! Dave has re-arranged and added machines to 5 stand for a more interesting and fun experience. Shoot a round or two........... you will not be disappointed!!

Great News for Sporting Clay Shooters!
Have you ever wanted to shoot more or less targets than the typical 50 or 100 round count down cards?
Maybe you would like to go out and practice on a few stations that are giving you problems?
Shoot a few additional rounds at a troublesome station but do not want to charge group card?
Or go out by your self and use the delay launch feature to shoot a few stations?
You may now purchase a count down card with as few or as many targets as you would like! If you don't shoot all the targets on your card, no problem! Keep card and simply use the next time out. I always keep a card in my wallet for convenience and safe keeping.
Shooting in a group? Continue to purchase card as a group.
Would like to have your own card? Simply purchase at counter using cash or credit card.
Simple. Convenient.

Have Fun!!! Shoot Often!!! Break 'em All!
George Adelmann, DGSC Vice President
Return to Top Click Here
DGSC Entertainment / Events / Marketing
Picnic Gun Raffle
Tickets for the picnic gun raffle will be available starting June 14th. This year we will be raffling off a Beretta A400, 12ga. Sporting Clays gun with 30 inch barrel, choke tubes and hard case. Our second item is a Stack On, 24 gun, fire resistant safe. Tickets are $10 each and available from any board member.

PICNIC TIME
The picnic is scheduled for Sunday, August 29th. Please mark your calendars. Volunteers are needed to help make the picnic a fun event. Your assistance would be appreciated.

Swap Meet
This year's swap meet will be a little different. On Saturday, Sept. 18th we will be utilizing the south portion of the parking lot where club members only can sell outdoor related items directly from their vehicles. Bring your own table and folding chairs. Boats and campers can also be displayed for sale but, require prior notice. The meet will start at Noon and end at 3pm. Volunteers are needed.

Vintage Gun Shoot
The Vintage Gun shoot will be held on Sunday, Sept. 26th. The shoot is open to side by side and pump guns in all gauges. A handicap system based on gauge will be used. The shoot will be 100 targets, 25 each on wobble trap, low gun skeet, 5 Stand, and Sporting clays. Volunteers are needed. More information will be released in the near future.
Ed Shannon, DGSC Entertainment Director and Marketing Chairman
Return to Top Click Here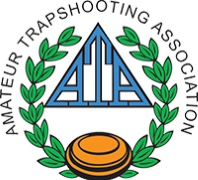 ATA Shoots
Our second ATA trapshoot of 2021 was a great success. The temps and lack of wind couldn't have been better. 72 shooters shot the three event program, with 69 singles entries, 65 handicap entries and 40 doubles entries. The club netted over $2,000 to help bolster our mission of supporting the shooting sports and the great outdoors. We always want to thank all of those who volunteered, without you we couldn't pull this off and welcome so many shooters and spectators to our grounds.
Our High Over All Champion was from Muscatine IA – Marcus Draves, who broke a 281. 17 shooters took home the 25 awards including three silver coins donated by an anonymous benefactor for the Junior shooters. Details and results can be found elsewhere on our website, please check it out.
Our next ATA shoot is scheduled for Sunday, June 27th. Whether you are a shooter or spectator, if you would like to help out, please let myself or Larry Chambers know. Any help is ALWAYS appreciated.
Thank you to John Mantsch for the pictures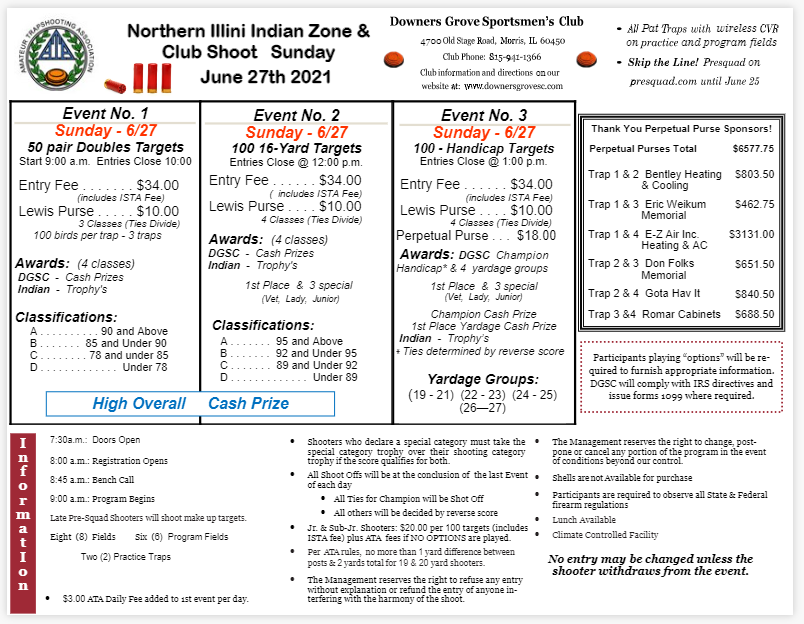 Stan Systo, DGSC ATA Chairman and ISTA Northern Zone Director
Return to Top Click Here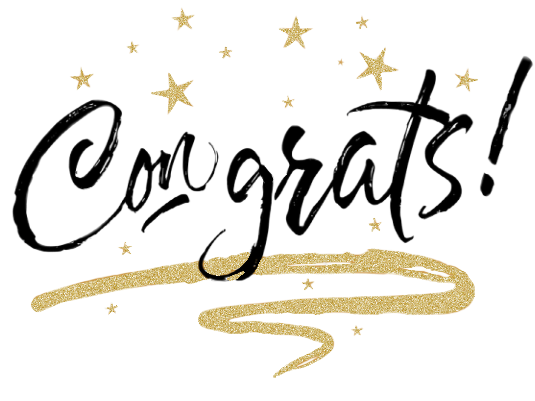 CONGRATULATIONS on the wonderful article published in the Chicago Tribune - thanks to Jed Davis and all the Youth Shooters that come out to DGSC! Click here to read the article(https://www.downersgrovesc.com/Newsletters/Newletter_Web/2021_06Jun/pictures/Trapshooting.pdf)
Return to Top Click Here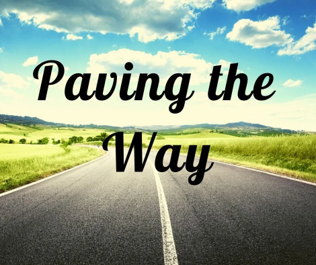 The DGSC Board was passed a prime example of youth paving the way for gun rights of the future for our young sportsmen/sportswomen. One of the youth (Eva) is a member of DGSC. Thank you Jed Davis for passing this along. Click here to read Law forbidding young adults from right to carry firearms challenged in federal court(https://madisonrecord.com/stories/602379628-law-forbidding-young-adults-from-right-to-carry-firearms-challenged-in-federal-court)
Return to Top Click Here


Friends and family enter and leave our lives, but the impressions they make on our hearts stay with us forever. DGSC is sadden to share news of the passing of ...
--Carol Rieck (Wife to Senior Members Ed Rieck)... Our thoughts and condolences go out to the Rieck Family.
Return to Top Click Here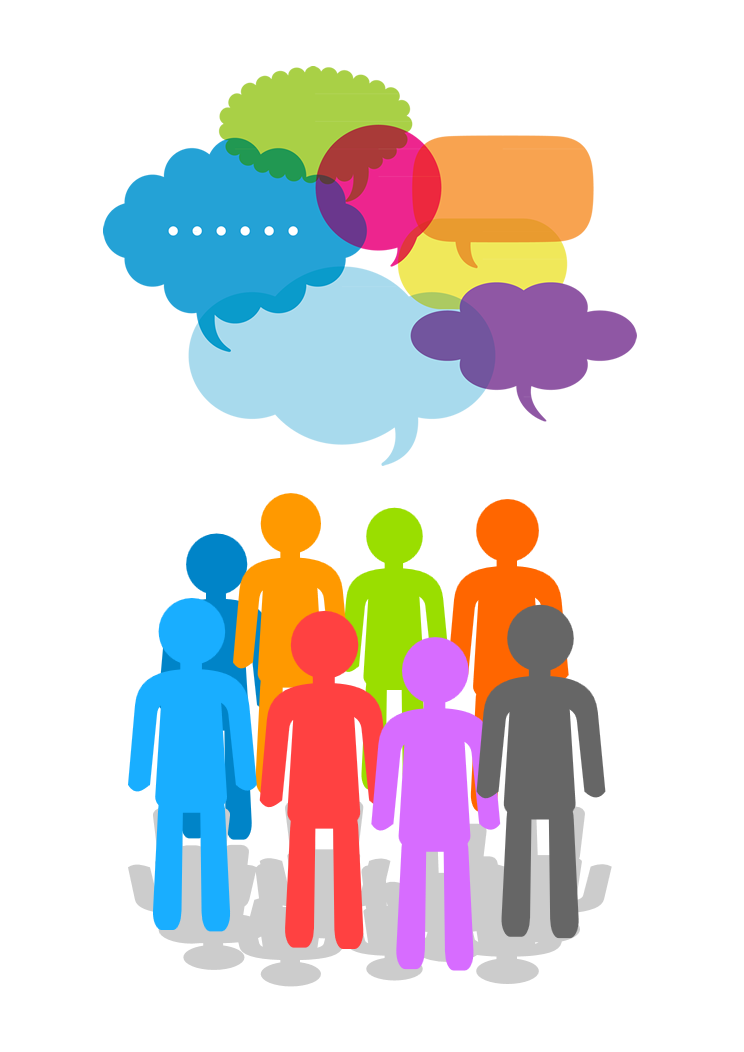 Discussion Forum
There has been a lot of confusion around HB 562 and the ISRA involvement . . . "reports that ISRA is lobbying for the bill behind the scenes. " . . . many wondered if this was a typo in the broadcast - it was not! Many have a lot to say about this and the bill etc. where better to strike up a great conversation than the DGSC Discussion Forum!!
Anyone can read the threads/posts, but in order to reply or create new topics/threads/posts you must register. To register please click the Register link right side of screen on discussion forum page.
DGSC Discussion Forum can be accessed by Clicking Here (http://www.downersgrovesc.com/Discussion.html)
Ed Shannon, DGSC Entertainment Director and Marketing Chairman
Return to Top Click Here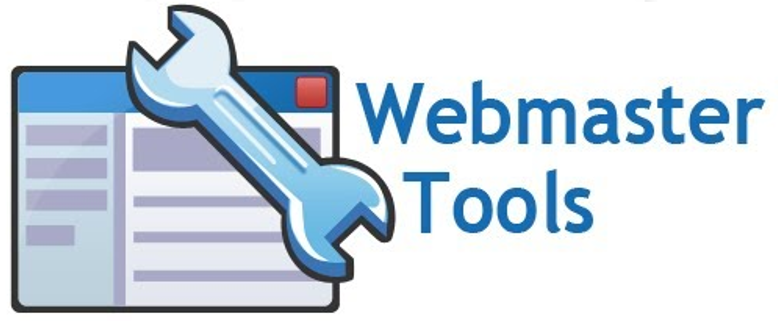 Member Broadcast/Website/Social Media
If you have an email account and are not receiving DGSC Broadcast please first add dgsc_newsletter@downersgrovesc.com to your Address Book/Contacts. Then email dgsc_newsletter@downersgrovesc.com and let us know you are not getting emails.
For those that do not have emails or know someone that doesn't have email and/or is not getting DGSC Announcements, setting up a GMAIL or YAHOO email is extremely easy and we can help but you need to ask and let us know you need help doing so.

We are always looking for photos for the newsletter and website, please email dgsc_newsletter@downersgrovesc.com and or share on Facebook any pictures you have or take and we will add them to newsletters and the website.

There is a lot going on in our sport from events at DGSC, other clubs, hunting, and youth leagues - we like to advertise on the website, facebook etc. about our sports so please if you have something that you think would be great to display on the website etc. please email dgsc_webmaster@downersgrovesc.com.
Debra Fredrick, DGSC Membership Communications | Webmaster | IT Chairman
Return to Top Click Here
Calendar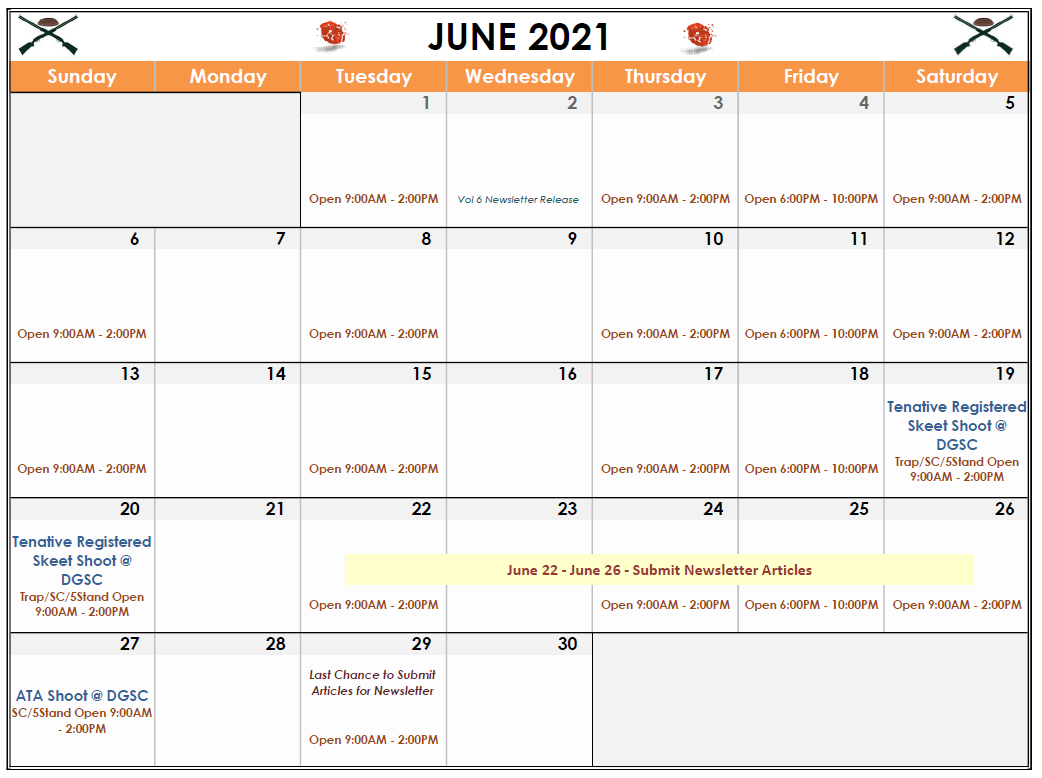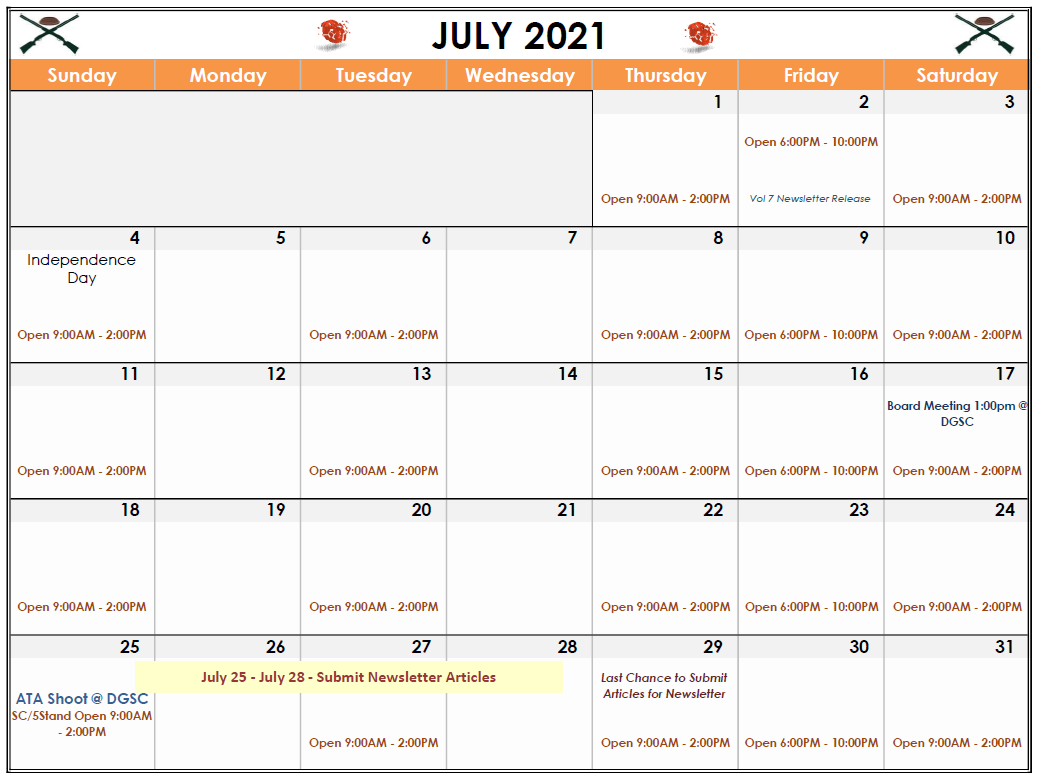 Click here for DGSC Full Calendar
Save the Dates List:
July
Saturday July 17, 1:00 p.m. Board Meeting
August
Saturday Aug 14, 1:00 p.m. Board Meeting
Sunday Aug. 29 Noon Club Picnic
September
Saturday Sept 11 & 12 all day ATA Illinois Northern Zone
Saturday Sept 18 Noon Parking Lot Swap Meet
Sunday Sept 19 8:30 a.m. Board Meeting
Sunday Sept 19 10:000 a.m. General Membership Meeting
Saturday Sept 25 9:00 a.m? BSA Rainbow Council
Sunday Sept 26 9:00 a.m. DGSC Vintage Gun Shoot
October
Saturday Oct. 9 1:00 p.m. Board Meeting
Sunday Oct. 10 All day ATA Herman Welch Shoot
November
Sunday Nov. 6 1:00 p.m. Board Meeting
Saturday Nov. 13 9:00 a.m. DGSC Meat Shoot (TBD)
Sunday Nov. 14 9:00 a.m General Membership Meeting
December
Saturday Dec. 11 1:00 p.m. Board Meeting
Sunday Dec. 19 9:00 a.m. DGSC Election / General Membership Meeting
Return to Top Click Here
Officers/Directors/Chairmen:
| | | |
| --- | --- | --- |
| President | Ken Cechura | president@downersgrovesc.com |
| Vice President | George Adelmann | vicepresident@downersgrovesc.com |
| Secretary | OPEN | secretary@downersgrovesc.com |
| Treasurer | John Mantsch | treasurer@downersgrovesc.com |
| Buildings | Don Cox | buildings@downersgrovesc.com |
| Entertainment | Ed Shannon | entertainment@downersgrovesc.com |
| Grounds | Kevin McCauley | grounds@downersgrovesc.com |
| Hunting/Fishing | Charlie Zib | huntingfishing@downersgrovesc.com |
| Legal/Insurance | Richard Niebuda | legalinsurance@downersgrovesc.com |
| Maintenance | Jan Gronych | maintenance@downersgrovesc.com |
| NRA | Chuck Feuillan | nra@downersgrovesc.com |
| Shotgun Sports | Larry Chambers | shotgunsports@downersgrovesc.com |
| Youth/Community Relations | Mark Matteson | youthcommunity@downersgrovesc.com |
| ATA | Stan Systo | ata.dgsc@downersgrovesc.com |
| NSSA | Tim Donnell | nssa.dgsc@downersgrovesc.com |
| Farm/CRP | Dan Bellus | farm.dgsc@downersgrovesc.com |
| Grants | Ken Cechura | grants.dgsc@downersgrovesc.com |
| Membership Communication | Webmaster | IT | Debra Fredrick | membershipcomms.dgsc@downersgrovesc.com |
| Marketing | Ed Shannon | marketing.dgsc@downersgrovesc.com |
| Financial Committee | John Semprini and Judson Mann | financial.dgsc@downersgrovesc.com |
Return to Top Click Here